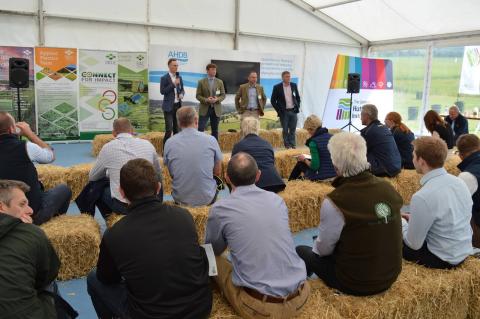 June 26, 2020
Economists and food experts will discuss opportunities for the arable sector and the challenges in current markets, as part of Arable Scotland's 2020 virtual programme on 2nd July.
With the UK wheat crop already forecast to be significantly lower in 2020 should we assume that UK wheat prices are going to come under pressure and will this lead to larger imports? David Eudall, AHDB's Head of Market Specialists (Arable), will provide the latest grain market commentary and discuss the longer-term direction for wheat and barley prices. He will offer an analysis of the impact on cash flows ahead to 2021, forecasts for global stocks and provide an outlook for international grain markets and the bigger picture for the cereals sector.
Julian Bell, Senior Rural Business Consultant at SRUC will provide an update on Scottish grain markets. Julian is responsible for delivering business services to farmers, government agencies and Farming Business and provides economic analysis in agriculture, investment appraisal, benchmarking and commodity market analysis. He has many years' experience in agricultural contract management and consultancy with Scottish, UK and international experience.
Former AHDB Monitor Farmer Alison Milne will discuss how her brand, Crafty Maltsters, has added value to a commodity product by exploring flavour, heritage, provenance, innovation and sustainability. Alison, together with her husband Daniel, sow, grow and harvest their own barley at Demperston Farm in Fife. Fifty per cent of their malting barley is supplied to the brewing and distilling industry through their brand Crafty Maltsters which is recognised for producing the finest quality malt, with the very best flavours.  Alison is also a board member and director of Scotland Food and Drink tasked with driving Ambition 2030.
At 6:30 pm a live Q&A session will be conducted. The panel will answer questions asked via the live stream during the day together with questions posed by regional business groups from across Scotland covering topics such as yield expectations, feedback on the growing season and conditions, crop updates, the outlook for the 2020 harvest and potential markets.