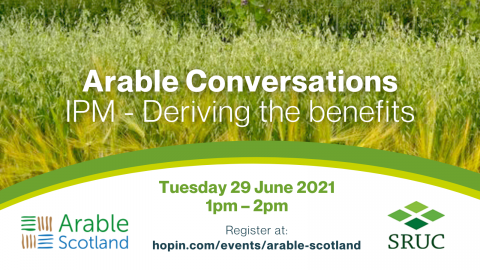 June 18, 2021
The SRUC-led Arable Conversation on 'Integrated Pest Management - Deriving the Benefits', on 29th June 2021 at 1:00 pm, will be led by Fiona Burnett (SRUC) and panellists include Caroline Drummond (LEAF), Andrew Moir (Arable Sector Climate Group) and David Howard (Hutchinsons).
There should be many win-wins in adopting practices that make crops more resilient against crop health threats and associated yield losses and also benefit the environment. But the drive to pick up more Integrated Pest Management (IPM) approaches comes from many fronts. It is obvious from the numerous recent withdrawals of pesticides that we will have to rely less on pesticides and adopt more integrated practices to keep our arable businesses profitable and sustainable, but there are strong policy and market signals that we also need to address climate and biodiversity targets.
The Arable Conversation session on Integrated Pest Management (IPM) discusses the future direction of IPM and the wider links with climate and environmental challenges. It is a unique chance to identify where the challenges and opportunities will come for Scottish arable businesses in picking up more integrated management practices. Loss of pesticides is just one driver for adopting more alternative practices to protect crops against plant health threats but what are the emerging technologies that can help and how can we link crop health needs with other policies such as meeting net-zero targets? 
The expert panel that will lead the session, and be there to take questions, come at IPM from very different angles. Caroline Drummond leads the LEAF scheme and will describe where she sees the future direction on more environmentally friendly practices. Andrew Moir is a farmer, chair of Scottish Quality Crops Ltd. He also chaired the Arable Climate Change Group which recently reported on farmer-led approaches to meeting net-zero targets for the Scottish Government. David Howard is an industry expert on IPM and passionate about combining sustainability with new technologies. Fiona Burnett, who will chair the session, is from SRUC and is a plant health expert. Her team at SRUC has pioneered new ways of measuring IPM which could help drive uptake and quantify some of the benefits. 
The panellists in this session will pitch the most promising new approaches and discuss how we can accelerate their uptake in the arable sector. Please join them to discuss how we can identify new approaches that benefit both the bottom line and the biodiversity and carbon footprint of farms in Scotland. Together we can explore the direction new policies may push us and consider if there are better ways to link to our markets and add value to produce grown in sustainable ways. This is a challenging and multifaceted area with mixed understandings of IPM and variable levels of uptake, so promises to be one of the highlights in the Arable Scotland day.
To register for the webinar visit https://hopin.com/events/arable-scotland.