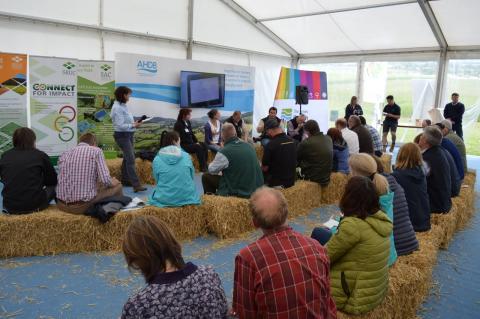 June 25, 2020
Scotland has committed to becoming a net-zero society by 2045. What are the challenges and opportunities for the farming community in helping contribute to net-zero?
Dr Kenneth Loades, soils and crops sector lead within the Scottish Environment Food and Agriculture Research Institute (SEFARI) Gateway, will chair the conversation with a panel from both commercial and research backgrounds. John Stirling, co-founder of Arbikie Estates, and Kirsty Black, responsible for running the Arbikie distillery, will highlight the company philosophy and where the net-zero challenge fits into this. From Arbikie Distillery's perspective, it's driven by a desire to produce the best, and highest quality, product. Commercially, Arbikie has focussed already on becoming a net-zero company but it appreciates the challenges. "Primarily we need tools to help us with understanding how close we are to our goal," says John. "Without these, we don't' really know where we are". 
Professor Derek Stewart from the James Hutton Institute will discuss the importance of the circular economy, reducing waste and re-purposing waste/co-products, and the opportunities therein from the development of novel products. Professor Stewart commented: "Significant changes are needed to address the way society uses resources and agriculture is no exception, and this means reducing and optimising inputs and increasing productivity. The industry has shown that it is ready to adopt new and innovative approaches into their businesses". This is certainly true of Arbikie who use heritage barley varieties for improved flavour and the ability of peas to naturally to fix nitrogen from the atmosphere to fertilise crops.
There will be societal benefits towards a net-zero approach, and Professor Wendy Russell from the Rowett Institute will highlight the multiple nutritional benefits to the consumer. Hemp, for example, in addition to having significant environmental benefits due to its capacity for carbon sequestration, has a high protein and fibre content whilst also delivering a variety of bioactive phytochemicals. As Professor Russell points out: "Hemp has a variety of uses, as food, feed, biomaterials and other high-value products, delivering a cash promoter for the circular green economy".
We need to be moving towards a net-zero approach in agriculture however there are always barriers which need to be overcome. Dr Gemma Miller has been working with NFU Scotland through a SEFARI Gateway funded fellowship looking into agricultural emissions in Scotland. NFU Scotland is publishing a series of accessible reports and blogs developed through the Fellowship. These will focus on livestock, upland, grassland, forestry, and conclude with the arable sector. Dr Miller says that good communication is key: "There is some evidence of a lack in research awareness with existing and emerging information identified as being indigestible and too academic: this needs to change". Dr Miller will share her experiences to date during the conversation.
The panel will discuss in greater detail the points above and how realistic a move towards net zero will be in the next 25 years. Central to achieving the target will be through the 'green recovery', and the 'Arable Conversation' will discuss what we can do now and also what the opportunities are for the future.