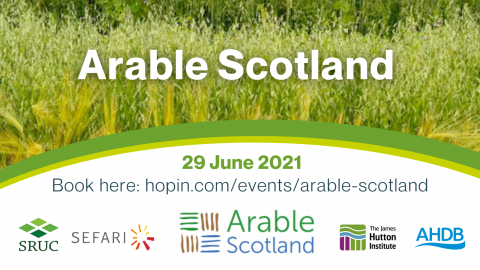 July 29, 2021
The 2021 edition of Arable Scotland – Scotland's premier event focussing on arable crops - took place online on 29th June and was very well received: more than two hundred e-delegates registered to take part in the event, from countries including India, the United States, Brazil, France and the UK.
Many more have caught up with the recordings of the 2021 series of Arable Conversations on YouTube, which included sessions on markets, integrated pest management, sustainable rotations and net-zero.
Dozens of e-delegates actively took part in the interactive programme, which featured lively discussion and virtual booths from exhibitors including SEFARI, the NEFERTITI and SEAMS research projects, Yara UK, CHAP Solutions, SoilEssentials, Corteva Agriscience, Smart Rural Coop, Farm Advisory Service and James Hutton Limited.
SRUC's Professor Fiona Burnett, IPM session lead and co-chair of the Arable Scotland organising committee, said: "We were pleased with the level of farmer engagement in Arable Scotland. Interaction across all the conversations was good with people beginning to think in a more integrated and joined up systems way, inevitably leading to questions and discussion on carbon issues, net-zero and markets.
"It is certainly healthy as an industry that we are looking at the whole picture."
Arable Scotland is delivered in partnership by the James Hutton Institute, Scotland's Rural College and the Agriculture and Horticulture Development Board (AHDB), with support from the Farm Advisory Service, SEFARI, The Scottish Farmer, Hutchinsons and the Scottish Society for Crop Research.
Content from the event remains freely available for consultation – you can visit Arable Scotland's 2021 Virtual Field Map to find out more.