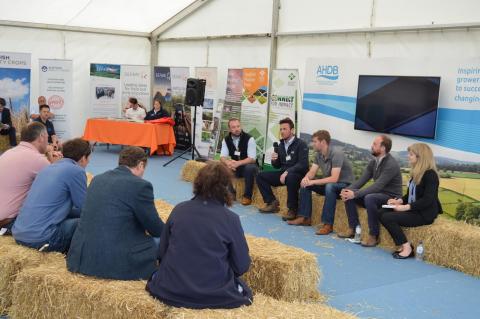 June 23, 2020
A webinar to be held during the online Arable Scotland on 2nd July aims to share lessons from those who have established innovative and alternative arable enterprises with aspiring new entrants to arable production in Scotland, and beyond. The session will be held from 1-2 pm.
This webinar will be hosted by the EU-funded project 'NEFERTITI' ('Networking European Farms to Enhance Cross Fertilisation and Innovation Uptake Through Demonstration'). NEFERTITI aims to support on-farm demonstration activities and farmer-to-farmer peer learning.
The Scottish NEFERTITI 'Hub' is part of the project-wide network focussed on farm attractiveness for new entrants to agriculture, sharing learning across partners in Ireland, France, Germany, Croatia and Hungary. The Scottish NEFERTITI Hub aims to connect the network of people involved in Scottish agriculture with 'shared experiences and expertise to share', through on-farm demonstrations, discussions, and mentoring for new entrants. Further detail is available via the Hub Facebook page.
During this webinar we will hear the experiences and views of leading arable farmers and specialists, including Alison Milne of Demperston Farm, and the 'Crafty Maltsters' brand, as well as Robert Ramsay, farmer and sales director at agri-tech specialists Soil Essentials. These innovative and entrepreneurial individuals are well informed of the issues facing new entrants to arable production and the importance of supporting the next generation in agriculture and crofting to a sustainable rural economy.
The webinar will also involve a question and answer session with the speakers, as well as a discussion on the 'big picture' questions, for example, the options available to support more young people into arable production or other careers in the agricultural industry. The opportunities for innovation into alternative crop varieties will be shared, and key messages for policymakers and the wider agricultural industry will be agreed.
This webinar and discussion will be facilitated by the Scottish NEFERTITI Hub coach and social researcher, Dr Annie McKee from the James Hutton Institute. The webinar will be recorded and shared online via the NEFERTITI project website.