Arable Scotland – all new and online, Thursday 2nd July 2020
Coming to screens large and small
In recognition of the developing COVID-19 situation,  Arable Scotland 2020 will move to a virtual format with key activity taking place on the original date of the Thursday 2nd July and a suite of webinars,  videos, podcasts, articles, press coverage and resources delivered online to continue to deliver the important messages and content of this key industry event. We hope even more people will be able to engage this way and that we can collectively use this as a focal point to meet and interact in a virtual way.
This year the theme is "alternative crops" and the four zones are: 1) Novel crops, 2) Pulses, 3) Inter-cropping, and 4) Oats, along with other demonstrations predominantly on cereals.
Much of the Arable Scotland site at Balruddery Farm was been sown with demonstration plots in support of these important and relevant themes. We have had to discontinue management of these plots but the themes will still form the basis of the virtual event, which all can attend online, which will still be supported by the specialists, scientists and industry stakeholders that made the event so successful in its inaugural year.
Another key component will be the "Arable Conversations" so popular in 2019 which will take place as interactive webinars. These are (provisional titles):
Plant Health: "Ensuring plant health - Is biosecurity and good practice as hard for plant diseases as it is for human disease?"
Zero Carbon: "Is zero-carbon arable farming possible?"
Markets and Opportunities: "Is yield really king?"
Farming Diversification / Alternative Crops / Food and Nutrition: "Is a plant-based diet the way forward?"
Each of these topics will have industry leads introducing some of the key issues, and some comments from some selected specialists and leading stakeholders. We will then have discussion and debate and the chance to table questions and air your thoughts.
THE EVENT will start at 10.00 on Thursday 2nd July (whatever the weather!) with:
A live introduction and a video overview (also can be viewed later)

An image-based self-guided tour will be online that you can follow any time

Short presentations of each group of demonstration (virtual) plots (video, image and audio content) can be viewed by clicking the event site map (to which a marquee section will be added)

In addition, there will on-line content, articles and content available in the run-up to the event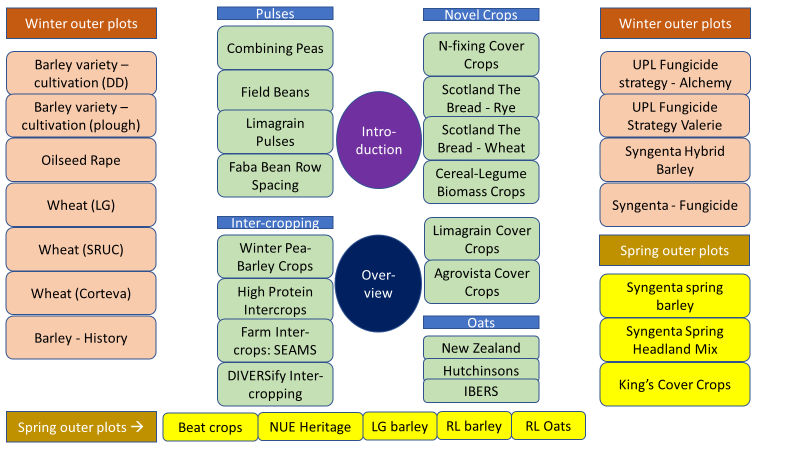 The core event partners are the Agriculture and Horticulture Development Board (AHDB), Scotland's Rural College (SRUC) and the James Hutton Institute.
The other key team members and sponsors are Hutchinsons, the Farm Advisory Service (FAS), the Scottish Environment, Food and Agriculture Research Institutes (SEFARI) and the Scottish Society for Crops Research (SSCR).