Arable Scotland 2020
Main sponsors

Webinars, live Q&As and a virtual site to tour
Pulling together expertise and knowledge for the arable industry
The challenges of 2020 have been more significant than any of us could have imagined – everything from market uncertainty to extremes of weather has tested our arable production businesses. Covid-19 and Brexit have layered new levels of complexity on arable farmers, coming on top of existing legislative pressures and net-zero and sustainable production targets to address climate and biodiversity crises.
Arable Scotland pulled together specialists, scientists and industry stakeholders, and to support the industry, the 2020 event majored on alternative crops and new markets and featured:
Live stream events introducing the event and running topical live stream Q and A sessions
A virtual site so that you can tour the science, specialist and industry expertise that would have been available at the actual in-field event.
The programme included:
10:00 am: Arable Scotland Introductory Videos – highlighting key actions on alternative crops, sustainable future production systems and featuring input from SEFARI, Hutton, SRUC, AHDB and the Farm Advisory Service.
1:00 pm: Webinar for New Entrants – Annie McKee from the James Hutton Institute drawing on input from the NEFERTITI Scottish Hub will host a webinar discussion on 'New People, New Pathways – Routes into Arable Production and Alternative Crops'.
3:00 pm: Guided Digital Crop Tour – A virtual tour of alternative crop trials, demonstration plots and research farms featuring SEFARI partners and giving a taste of what might have been seen at Arable Scotland if it had been possible to hold as a field event.
5:00 pm: Arable Conversations Live stream  Q & A – Meeting the challenges of net-zero – focused presentations from key experts followed by a question and answer session.
6:30 pm: Arable Conversations Live stream Q & A – Alternative markets and new product opportunities – key economists and food experts discuss the major new opportunities for the arable sector.
8:00 pm: Arable Conversations Live stream Plant Health – the challenges and opportunities of implementing best practice, with contrasting New Zealand and UK experiences on new products, pesticides and sustainable practices
To catch up with recordings of the live sessions, visit the Virtual Field Map below.
'Field Map' of Arable Scotland 2020
Click below to access the Virtual Field Map of Plots and Marquee Exhibits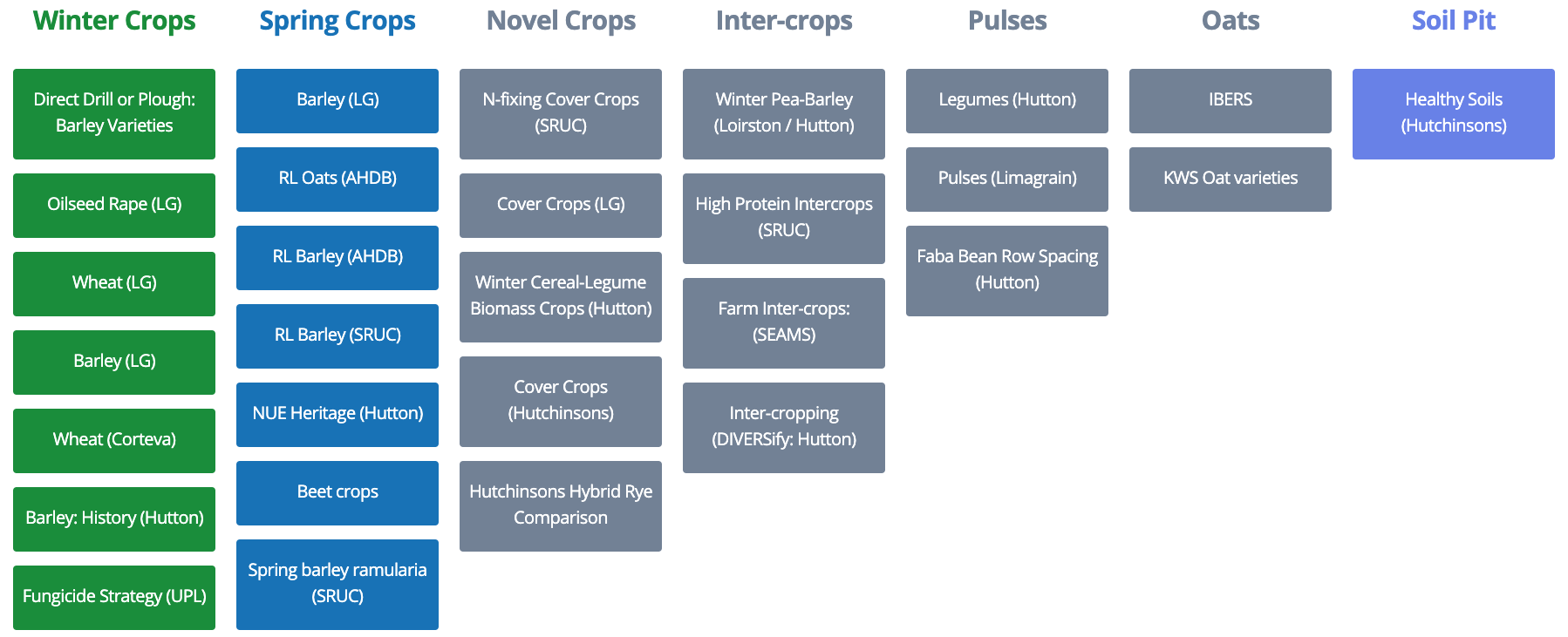 The Farmers Forum hosted several sessions on its Arable Scotland page: https://thefarmingforum.co.uk/index.php?forums/arable-scotland-2020/
The core event partners are the Agriculture and Horticulture Development Board (AHDB), Scotland's Rural College (SRUC) and the James Hutton Institute.
The other key team members and sponsors are Hutchinsons, the Farm Advisory Service (FAS), the Scottish Environment, Food and Agriculture Research Institutes (SEFARI) and the Scottish Society for Crop Research (SSCR).